Meet Jeymi and Cecilia, two young immigrant community organizers who have channeled their own experiences into building an organization for transformative community change. Since 2016, Pupusas for Education has been committed to closing the opportunity gap in access and affordability to higher education opportunities through scholarships and services for undocumented and DACAmented students in Orange, Durham and Wake counties in North Carolina. Now Jeymi and Cecilia are leading Pupusas for Education through a metamorphosis into People for Equity (P4E). P4E will continue to offer much-needed scholarships but also focus on intentionally building a coalition of leaders who can help bring about system-level changes.
Cecilia S. Polanco (she/her/they/them) believes their roots in her family's Salvadoran and immigrant heritage are what allow them "freedom to dream a life free from intersectional systems of oppression…and a return to ways of being in harmony with nature and each other, for our [collective] wellness." Despite personal experience with these intersectional systems of oppression, Cecilia recognizes that having status as a United States citizen is a privilege that changed the trajectory of their life as compared to some of their peers growing up. Cecilia could qualify for in-state tuition, public funding, and many scholarships, whereas undocumented students could not and cannot.
And qualify she did. Cecilia earned the prestigious Morehead-Cain Scholarship, a full merit-based scholarship to UNC Chapel Hill, along with the Global Gap Year Fellowship. "Scholarships were so impactful for me, and knowing so many undocumented people in my community, it just wasn't fair they were shut out." These experiences led Cecilia to start a scholarship for undocumented students. Drawing on their "rich cultural capital - our language, our food, our traditions", Cecilia started the So Good Pupusas food truck as a means to funding scholarships (and a "crash course MBA, learning about business by operating a business!").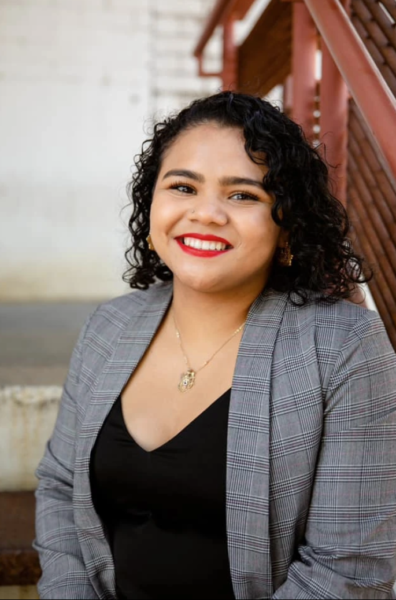 That's when Cecilia met Jeymi Dubon Reyes (she/her), who would soon become Executive Director of Pupusas for Education. Jeymi shares lived experience with the scholarship applicants Pupusas supported. She immigrated to the United States in 2004 at the age of three but did not realize she was an undocumented resident until high school. "During my sophomore year, I really wanted to start taking college classes with Durham Tech, and realized I couldn't because I didn't have a social security number." She faced several more emotional barriers in her quest to become a college student and from those experiences "determined what I wanted to do - to save people from the difficulties I faced and…make sure the pathway for them was a lot easier than it was for me."
Scholarships for undocumented students are an important tool for doing just that. But scholarships alone are not enough. Jeymi is passionate about uplifting the voices of youth, creating space for youth participation, consulting, and decision-making. "I believe it's important to be an ally for youth, and to make sure we are paying and celebrating youth for their work. Young people carry so much, and mental health is a major part of taking care of our youth and making sure they have resources and adult allies to
call on for support."
As Jeymi and Cecilia facilitate the evolution of Pupusas for Education to People for Equity, they have hosted the first, of what they hope are many more, mental health retreats for undocumented students through a partnership with the Carolina Latinx Center, UndocuCarolina, and Meredith College. As longtime residents of East Durham, Jeymi and Cecilia feel it's necessary to have representation in the planning and facilitation of BIPOC and youth spaces. They recognize that supporting young people as leaders in their communities requires supporting their holistic well-being, which is why P4E has intentionally integrated mental health retreats and other activities to support emotional processing and creative outlets to support the young people they work with. Jeymi shares that "I love to create things with my hands, and when I see youth creating art, music, or just having fun, I could sit there and just watch them because it's beautiful to see them in their zone."
P4E is at an exciting point in its organizational lifecycle. In terms of what the future holds, "Of course the goal is to continue building on the work that has already been done – to grow the scholarship and introduce a level of innovation with a coalition that works together for equity," says Jeymi. P4E will serve as fiscal sponsor for community-rooted and youth-led projects, while offering technical assistance and collective learning as requested.
Cecilia and Jeymi recognize that dominant systems are not currently set up for the innovations they want to exist, that others might not see the value of these innovations, and that there are risks in doing something new. "Part of my role with philanthropy is to change funding agendas and how those agendas are set, who has the power and decision-making control," says Cecilia. "We're working to build relationships that are not just transactional." Jeymi and Cecilia invite funders to take these risks with them. They recognize that the people who are living the experiences have the solutions to solve the problems they're facing and deserve to be believed in, trusted, and invested in. "We really are looking to build a long term better future and better quality of life for people. And that is our collective work."
Intention: We intend to create solutions together by providing holistic support services that uplift our collective knowledge and manifest the healing and thriving of our communities. 
To learn more about how you can get involved with Pupusas 4 Education, click the button below.