A VIBRANT COMMUNITY FOR EVERYONE
Over $30 Million in grantmaking to nonprofits last year alone
Learn about the Foundation
Triangle Community Foundation is building a stronger Triangle for all. By working with dedicated donors and strong nonprofits, we are able to guide gifts in a strategic way to fill in gaps, reduce inequities, and solve the region's most pressing challenges. We work tirelessly in the Triangle region of North Carolina to help build a more vibrant community for everyone. By taking a broad view, we are uniquely positioned to identify gaps, support the most important needs, and shape a brighter future for generations to come.
As we continue to grapple with the COVID-19 pandemic and inexcusable racial injustice, we need to help each other even more. Even as our staff works remotely, we are committed to continued listening to the needs of our community, learning (and unlearning) with our donors and partners, and responding quickly to pressing needs as they arise. We hope you'll join us. 
CURRENT ARTIST IN RESIDENCE
Gallery Artist: Eliza Redmann
The Durham Art Guild and Triangle Community Foundation are thrilled to present work from Eliza Redmann in the Triangle Community Artists Gallery. During this time while our office is closed, we are heartbroken that no one can see our beautiful gallery in person. But the show must go on! We encourage you to visit our virtual gallery, where you can peruse the current show at your leisure, and purchase art if you desire.
---
In the artist's words:
"This work is inspired by the persistent visual disturbances caused by my traumatic brain injury. Often when I look at patterns, they appear to swim or move on their own accord, much like an optical illusion. Through this work I seek to capture the structure of regular patterns and shapes while adding a layer of geometric information which the eyes and brain can't quite make sense of. In representing the symptoms of my traumatic brain injury visually, I challenge viewers to perceive outside of what is normal or traditional, just as I must now live, adapt, and navigate the world in new ways."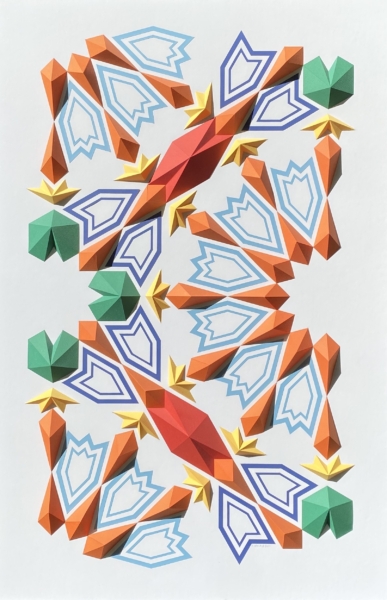 Orange County

144,946 people

Durham County

311,640 people

Wake County

1.072M people

Chatham County

37,587 people