Growing up on Long Island, Natalia Siegel, Director of Donor Engagement at the Foundation, has always had a spark for community. A second-generation Colombian American, Natalia grew up with both of her parents working in the medical field, a profession that embodies service to others. She can recall many stories of her family lending a hand to a neighbor – from her dad stopping on the side of the road to help someone with car troubles or her mother volunteering with the cleanup efforts following 9/11. Though she had no interest in pursuing a career in the medical field herself, she did know she wanted to center her work around giving back.
Drawn to Her Passions
Below: Natalia on graduation day with her sibling, Rachel Siegel.
Natalia moved to Washington, D.C. for college, where she attended The Catholic University of America, a school based in Catholic social teaching, an active form of faith with focus on the human and went on to graduate with a degree politics with a focus on peace and justice studies. If you had asked her what her dream career was while in college, the answer would have included some sort of role working on Capitol Hill or in the White House. That quickly changed after spending time with Higher Achievement, an organization focused on youth development delivering educational support grounded in social justice principles. "I felt drawn to work and live in the community that I was serving. I lived in the same neighborhood that my students did," she says. Natalia worked there throughout college and continued full time with the organization after graduating. She even had the opportunity to facilitate a recruitment event at her alma mater – a true full circle moment. While she had a strong passion for the mission of this work, Natalia also began to feel the physical burden of working at a direct-service organization, so she decided to step away and take some time to visit Colombia.
Natalia with her group at Higher Achievement, including her former boss Ayana Patrick.
Finding Pride in Her Culture and Diving into the World of Development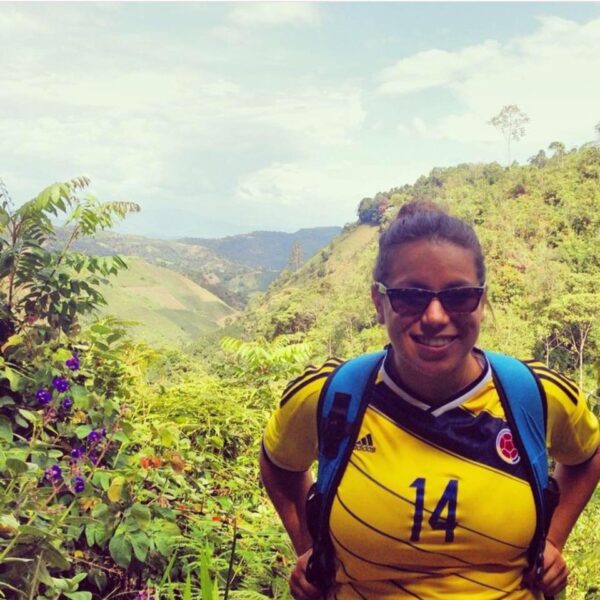 Growing up, Natalia's culture was never "a thing." She noticed differences between her mother and father's homes, such as the Colombian foods served and Spanish spoken at her mother's house, but it wasn't until high school when she really began to understand her cultural background. She recalls sitting in Spanish class and a group of students expressing their confusion as to why she was enrolled in the class. "It was the first time I realized people were looking at me for my skin," she says. "I became a 'them.'" She describes the feeling of being "othered," and the uniqueness of her racial and cultural awakening, as it happened much later in life. "I didn't even call myself Latina until working at Higher Achievement," she says, crediting her former boss there who helped her feel proud and understand her ethnic and racial identity.
Beginning to crave a change of pace and scenery, Natalia moved to Durham, which she has called home for almost a decade now. Exploring jobs in fundraising led her to Duke Catholic Center where she thrived overseeing logistics and building connections with people. Later transitioning to a role at MiracleFeet, an international nonprofit based in Chapel Hill, she learned about peer-to-peer fundraising and the relational aspect of the job. While she enjoyed the work, MiracleFeet's impact was spread across the world, which left her feeling disconnected from her local community. Feeling a sense of moral obligation to support the region she was living in, when a position in donor engagement opened up at the Foundation in February 2019, she joined the team.
Being a Philanthropist in One's Own Way
Photo credit: Caleb Santiago Alvarado (https://www.calebalvarado.com/)
Though the formal term wasn't discussed much growing up, Natalia's family defined 'philanthropy' through their actions of giving back and serving the community. "When you think of philanthropy as time, talent, and treasure, we were the time and the talent," she says. This lesson of defining philanthropy on your own terms has been ingrained in her work at the Foundation. As the Director of Donor Engagement, Natalia works with fundholders, giving circles, and corporate giving to achieve the impact they want to see in the Triangle. A specific story comes to mind when thinking of 20/20 Sisters of Vision, a Black women-led giving circle with the mission to empower women and families, locally and globally. The group is fully autonomous – the Foundation holds their investments and provides resources and guidance as needed, but they decide when, where, and how they give. In 2020, the group requested the Foundation to ask donors to match their $2,500 to achieve their goal of granting $5,000 to H.E.A.R.T.S.. Natalia was able to step into her role as "matchmaker" and find donors who might be interested in this request. In the end, 20/20 Sisters of Vision granted $6,500 to the organization, the largest single grant that H.E.A.R.T.S had ever received. This story reflects the power of collective giving and the power of Natalia's role in matchmaking generous donors to organizations of interest – and how you don't need millions of dollars to bring momentous change to your community.
Looking towards the future, she describes her excitement about where the Foundation is headed. When she started, she describes how the team was operating in more of a reactive mode, but today she feels more empowered to explore, moving towards a more strategic lens. Having worked in philanthropy for some time now, she takes away many lessons. "I have learned to not judge anyone's philosophy of philanthropy. This is a crucial part of my job handling over 500 funds and the human beings connected to those funds plus their varying biases and experiences. Everyone on this planet can be a philanthropist. I'm excited to continue learning how to activate those with wealth and those who are inspired to be a philanthropist in their own way."
Photo credit: Caleb Santiago Alvarado (https://www.calebalvarado.com/)