"A person's place is in the arena, not in the grandstands."
- Jim Stewart, quoting his father, John S. "Shag" Stewart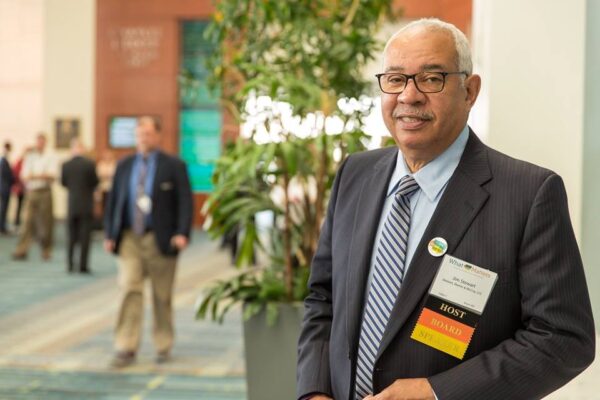 Jim Stewart's father John (affectionately known as "Shag") lived his life in the "arena," as did his mother, Otelia Spaulding Stewart, so Jim had plenty of examples of what it meant to be intricately involved rather than sit on the sidelines.
<The following italicized content is an excerpt for background from this Foundation article from August 2014>
Jim's mother's uncle, C.C. Spaulding, was an early executive of North Carolina Mutual Life Insurance Company, which became the largest Black-owned business in the U.S. and, with Mechanics and Farmers Bank, and Mutual Savings and Loan, served as the core of the Parrish Street section of Durham that was known as "Black Wall Street."
His father was president of Mutual Savings and Loan, served on the Durham City Council from 1954 to 1971, and as mayor pro-tem in 1970-71, during critical years of the Civil Rights Movement. Jim grew up in the Hillside neighborhood of Durham, attending Whitted Junior High School and then Hillside High School, where he played alto saxophone in the band and marching band. Jim received a Bachelor of Science degree in mechanical engineering from North Carolina State University, where he also completed the ROTC program, then got a job as a junior engineer at IBM in Research Triangle Park before entering the U.S. Army. He spent a year at Fort Eustis in Virginia, teaching data processing, then spent three years in Heidelberg, Germany, working as a plans officer, handling budgeting, correspondence and acquisition of supplies. He completed his four-year tour in 1975 as a first lieutenant, and returned to IBM where he worked until 1997, primarily in the marketing division. He decided to go into real estate as a second career, and founded Stewart Commercial Real Estate, which works as a brokerage and consultant for commercial real estate, where he still is active today. Jim also serves as Board chair of Mechanics and Farmers Bank, and previously was Board chair for Triangle Community Foundation, among other community leadership activities.
Jim's long family history with Triangle Community Foundation (his father was a founding Board member) cannot be told without sharing an example of his dad's dedication to the role. "I think I've told most everybody, but one of my dad's duties was to sign grant checks every Friday. One morning he got up and it was snowing like crazy, and you know how bad the roads get. I don't know how deep the snow was, but he was determined to get to the Foundation office to sign those checks. Mama got on the phone and called the office and unsurprisingly to her, nobody answered. She convinced him that since there was nobody there – this was before voicemail so someone had to answer the phone if they were - he could relax and not risk life and limb for that!"
In terms of Jim's own involvement with the Foundation, it came later, and was somewhat unexpected. "[Former Executive Director] Shannon St. John invited me to lunch one day and I had no idea what it was about. She said, 'You work diligently to secure your parents' legacy and you should start thinking about your own.' At that same time she asked me to join the Real Estate Foundation. After a few years I joined the regular Board, and served as chair during my tenure as well."
What stays with Jim from his time on the Board and his continued involvement with the Foundation is the impact on the community. "I think one of the reasons I was elected to the Board was because I always championed the contributions of the founding donors. With the organization growing at such a rapid pace, raising funds to support more philanthropic work in the community, I think it's important that we never forget the contributions of those on whose shoulders we stand, no matter how small their contributions may appear in retrospect."
Jim considers himself a small donor who focuses his funding on scholarship and education. At NC State he has two scholarship funds, one with the Provost's Office, and one with the College of Engineering. They are both need-based and focused on students in underserved communities. Jim and his wife Frances Dyer also have the James A. Stewart and Frances Dyer Fund at the Foundation, a donor-advised fund that has supported scholarships, the Foundation's Send a Kid to Camp program, and religious institutions, among other causes. And he founded the Hillside Class of '66 Alumni Scholarship Fund, a fund to receive donations and award scholarships to college-bound Hillside High School seniors.
What Jim worries about today, as so many of us do who have lived in the Triangle for many years, is how quickly the region has grown without the corresponding infrastructure to support it, especially with affordable housing being squeezed out. "Fairness in growth is difficult because it defies economics," he says. "The developers will always continue to move forward with projects. The city tries to enforce some of the housing rules so everyone has an affordable place to live, but local people get the growth started and then the big guys come in and it really mushrooms in a way that's not necessarily friendly to the overall community."
To get back to the idea of being in the arena rather than the grandstands, Jim's message about the need to serve our neighbors remains. Just over a year ago he and his wife moved to a 55 and older community, and he thinks about 75 percent of the residents moved here from all over the country to retire but don't have ties here, so many are not invested in seeing this area thrive like others with deeper ties to the Triangle might be. "However, in our new community I am seeing transplants engage with the larger Triangle community which gives me hope. I also think the Foundation should be out there engaging with younger people as well as people of all ages moving into the Triangle to ensure a level of engagement that can keep the region moving forward."