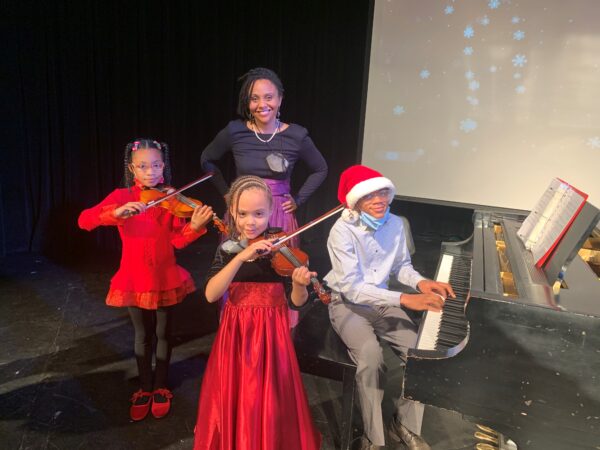 BUMP's origins began in Boston as the Boston Urban Music Project founded by Georgiary Bledsoe. Dr. Bledsoe relocated the organization to NC in 2012 where it has evolved into BUMP: The Triangle and Joy Harrell Goff serves as a "re-founder," guiding the future direction of the organization.
Upon arrival in Durham in 2012, BUMP focused on piloting ideas and developing a curriculum for workshops centered around the music of the African diaspora. One of these workshops, Lift Every Voice and Sing, needed a teacher. Joy Harrell Goff, who was teaching music in Chapel Hill at the time, received a phone call from Georgiary inviting her to teach the workshop, and Joy gladly accepted. Empowered to rework the curriculum, Joy's enthusiasm and curiosity for the organization grew, ultimately leading her to become BUMP's curriculum coordinator. Together with Georgiary, they piloted numerous workshops and events, expanding the organization's outreach. Joy Harrell Goff reflects, "The curriculum started to have a life of its own. We were learning that families desired BUMP programming that had more contact hours with their kids."
In 2019, Georgiary decided to step down as executive director of BUMP to focus fully on curriculum development and designing workshops that explored the connection between African diaspora music and American history. Joy was excited to embrace the role of executive director and became affectionately known as BUMP's Visionary Conductor.
Joy's upbringing in Asheville, NC was her cultural bedrock for a life in the arts. Showered with love and creative excellence by her parents, schools, and community, Joy has an unshakable belief in the power of artistic expression to protect, save, and change lives. She pursued higher education at North Carolina Central University (NCCU), University of Northern Iowa, and the American Musical and Dramatic Academy in New York City, earning degrees in music, theater and education. Despite experiencing racial tension due to her family's involvement in leading the integration of schools in her county, Joy found her escape in art, specifically as a singer, drum major, saxophone player, and theatrical performing artist. To be closer to family, she eventually returned to North Carolina to teach in Chapel Hill, despite having vowed never to become a teacher because of the racism she experienced as student. "Somehow I felt called to the classroom and called to teach." Ultimately, Georgiary's phone call redirected her toward the nonprofit world.
"We know the arts are powerful and that the arts are powerful with Black and brown children. I felt motivated by it all – the roses and the thorns," she says. When she stepped into the role of executive director, BUMP's funding relied solely on a $11,000 grant from Triangle Capacity-Building Network. Additionally, the loss of partnership with Durham Housing Authority, which had been providing space to teach, forced BUMP to pivot. Despite these hurdles, Joy's passion propelled her forward. Through a campaign to facilitate an instrument drive, BUMP managed to secure a wide variety of instruments, fulfilling students' desire for hands-on learning. "We just kind of made it work – I don't know how we did it, but it worked out."
Unfortunately, the COVID-19 pandemic forced BUMP to close its doors initially, transitioning to virtual and later hybrid programming. The digital divide resulted in a significant decrease in student enrollment due to limited access to technology for virtual participation. However, recruitment picked up once it was safe to resume in-person activities. The organization continued to grow, with youth enrollment tripling in 4 years.
Despite persistent challenges in securing dedicated space, they have adapted by utilizing locations such as Joy's backyard, Bull City Music School, local elementary schools, and a church where their office is located. Nevertheless, the organization recognizes the need for additional resources.
Students specifically are craving more from the organization. The Fahari Leaders, BUMP's youth leadership program, embodies the future of BUMP. Formed in 2021, the Fahari Leaders were sparked by an exuberant young man who radiates pure talent and with a plethora of ideas on how to engage other young people. Once conversations began, other students became interested and there are now 9 Fahari Leaders in the program. Through monthly meetings, they brainstorm fresh organizational concepts and even request attendance at Board meetings. They have planned Youth Artist Retreats and firepit socials, which have inspired younger students to join and create their own leadership group. The students are sowing the seeds of the next generation of leaders, while also providing Joy with invaluable insights into the struggles they face. "Sometimes it breaks my heart to hear what they go through. Sometimes I'm just elated and inspired. They inspire me every single day."
Mission: To foster excellence and agency in youth through the cultural assets of African diasporic visual and performance arts. We offer youth African-diasporic cultural enrichment, visual and performance arts programming that build artistic proficiency, cultural knowledge, heritage knowledge, and resilience.
To learn more about how you can get involved with BUMP: The Triangle, click the button below.