Growing up in New Bern, the colonial capital of North Carolina, Sarah Battersby was surrounded by history at an early age. She was a historical dancer and even dreamed about becoming a historian when she grew up. The only thing that topped her love for dancing and history was reading. As a child, Sarah read one to two books a day, earning an award for the sheer number of books she read as a third-grader – an honor for which she was featured in her local newspaper (see below!). This passion has continued throughout her life and even led her to study English at The University of North Carolina Chapel Hill.
While in college, Sarah interned at UNC Press, an academic publisher housed on campus. She really enjoyed the work but felt unsatisfied and like she wasn't giving back to the community. In contrast was her experience with another organization she was involved with at the time - "Best Buddies," a program that pairs college students alongside individuals with disabilities in the community. Sarah had been inspired to join the program after years of sitting for her next-door neighbor who had severe disabilities, and ended up being paired with the same buddy all through her college years.
Sarah's passion for service deepened after her next experience as a public service scholar (currently known as the Buckley Public Service Scholars program). This program is structured for undergraduate students committed to giving back to the community through service work – 300 hours of it, that is. Most of Sarah's hours were spent at the Inter-faith Council for Social Services' community kitchen serving meals, and she enjoyed this form of giving back. Approaching graduation, the next natural step for Sarah was applying to the Master of Social Work program at Carolina, where she was accepted and concentrated in Management & Community Practice.
After completing her degree, Sarah moved to Florida while her husband finished his graduate program. A career counselor position opened at his school, which Sarah applied for and was subsequently offered. Sarah has worked with college students in some capacity ever since.
Starting a New Chapter
Relocating back to North Carolina shortly after her husband graduated, she worked at Duke Law in Admissions and Student Affairs, coordinating the loan repayment assistance program for graduate students in public service, managing student groups, and assisting with new student recruitment and student-focused events. Sarah loved working in higher education, but found she wanted a more community-based role. Shortly after, a position at the Foundation opened that would allow her to be connected to students as well as the community and manage scholarships – a natural fit. The rest is history, as she recently celebrated eight years at the Foundation.
As the Senior Program Officer for Education Initiatives, Sarah manages the Foundation's Education and Youth impact area and the scholarships program. Though philanthropy was not a point of discussion in many conversations growing up, she reflects on ways in which her family gave back. She recalls her mother delivering baskets of food to people, specifically grand amounts of pimento cheese. She compares her earlier experience with the Best Buddies program to her role at the Foundation as she gets to work directly with individuals. Especially in the scholarships program, she really gets to know the students. "I've been lucky to be able to see the individual impact made, which you don't always get to see in philanthropy," Sarah says. She estimates she has developed connections with over 1,200 students while working at the Foundation.
Always 'Enabling Big Dreams and Best Selves'
Sarah could tell many stories about students she has worked with over the years, but one in particular stands out to her – the first phone call she made to notify a student they had been awarded the Felicia Brewer Opportunity Scholarship totaling $50,000. The student had lost their mother to cancer and at the time was not a citizen. Receiving this scholarship meant a new beginning. Similarly, another student with no family in the US received the same scholarship. When graduation day arrived, they had no family to attend. Sarah and the donor of the scholarship were honored to attend the graduation as the student's biggest cheerleaders.
Looking through a New Lens
While she has worked with young people and developed connections with countless "mentees" over the years, she describes that having a child of her own has changed her perspective on education. She says her passion for advocacy has only heightened and describes the brokenness of the system alongside the impossible feat of finding affordable childcare. "I've become even more aware of student parents," she says. About 20 percent of undergraduate students are parents and on top of academic priorities, these students have so much more to think about behind closed doors. In 2022, Sarah completed the Education Policy Fellowship Program with the Public School Forum of North Carolina, a statewide program helping education advocates from all backgrounds understand North Carolina's education history, funding structure, and current legislative priorities. Sarah remains connected to her higher education-focused policy work group and is collaboratively advocating for students and families.
"It's not just helping a student go on to higher education, it's about the whole family," she says, describing the holistic approach to the work. Sarah enjoys looking through a multigenerational lens when it comes to education and finds it especially inspiring when a parent realizes they can go back to college and "re-career." She describes how these examples encompass the whole goal of this work with the question, "How can we all help each other?"
What the Future Holds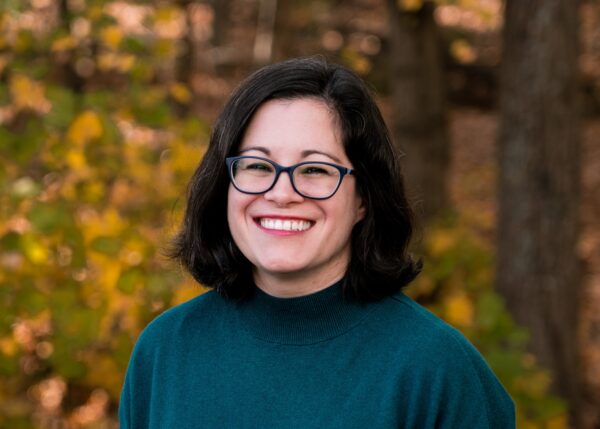 When looking towards the future, Sarah wishes to continue mentoring students. Her involvement in mentoring has been widespread throughout the community. Currently, she is a mentor with Wake Invests in Women and iMentor Amplify Scholars, is a leadership coach through Leadership Triangle's Transforming Leaders Program, and oversees the Foundation's Scholarship Intern. Sarah cares deeply about the community's youth, and wherever her career path takes her she is sure it will include helping shape brighter futures for generations to come.