Spend just five minutes with Triangle Community Foundation's President & CEO, Lori O'Keefe, and you will learn at least three things:
There is no situation she doesn't have a musical theatre reference for,
She loves anything in pop culture related to zombies, and,
She is passionate about her work.
In fact, when we sat down to interview Lori and asked her the first question, to tell us about her background, you guessed it, she had a musical theatre reference – "Iowa Stubborn" from The Music Man. "'We'll give you our shirt and our back to go with it if your crops should happen to die,' sums up the Midwestern attitude that I was surrounded by – you take care of you, and we'll take care of ourselves, but if you really need something, we'll be there," she says. She draws a similar comparison with the topic of philanthropy and her family – they didn't ever talk about it, though there was a definite spirit of volunteerism that was noticeable, from her mom being the Girl Scouts leader to volunteering at the local children's hospital.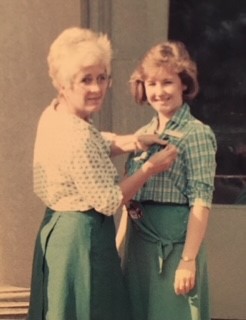 Lori with her mother at a Girl Scouts event.
As you might have guessed, music factored significantly into Lori's childhood, with her middle school music teacher playing a pivotal role. "She taught me to believe in talents that I didn't even know I had," she says, and in fact is still in touch with her teacher today, who is now 85 and long since retired. The power of mentors and people who believe in you is something Lori carries with her in her work at the Foundation. "Everyone should have a person that, regardless of what is going on in your life, is always in your corner." Professionally Lori credits one of her most formative mentors to be Phail Wynn, Jr., who served as the Foundation's Board Chair, Interim CEO and Foundation Leadership Council Chair in addition to serving as Vice President of Durham Regional Affairs at Duke University before his passing in 2018. "In many ways, I owe my leadership at the Foundation to his guidance and counsel. He truly was transformational to me as well as the Foundation."
Left: Mrs. Huffman, Lori's high school music teacher, at her graduation party.  Right: Mrs. Huffman with Lori and her daughters.
While Lori initially was a vocal music major in college, she only lasted on the performance track for a semester and a half, recognizing quickly she didn't have the stomach for the uncertainty of a career in music performance. Instead, she got her degree in voice but minored in business as well, subsequently pursuing an MBA with a specialization in arts administration. Lori focused the early part of her career in the arts, first in California at Orange County Performing Arts Center in Costa Mesa, and then at Santa Clara University's Mayer Theater and Performing Arts Center. She then moved to New York City, where she worked for Brooklyn Academy of Music, followed by New York University. Wanting to be closer to her retired parents in Southern Pines, in 2004 she accepted a position in development with Carolina Ballet. With a young child at the time, the evening and weekend hours required of working in the performing arts sector were untenable, so it was kismet when she met Beverley Francis, former Director of Philanthropic Services at the Foundation, at the North Carolina Center for Nonprofits conference in late 2004. The Foundation was recruiting for a Philanthropic Services Liaison position, so Lori threw her hat in the ring and the rest is history.
Lori with Farad Ali, a former Foundation Board member
At this point Lori has been at the Foundation for 18 years and at the helm for 10, and much has changed during that time. For one thing, assets have doubled, from $144 million to close to $300 million. While the overall staff size hasn't changed all that much, depth in certain areas has. Lori joined at a time when leadership and the Board felt it was time to shift the focus to really and truly understand the donor and the donor's interests and intent, with the thought being that if they were able to deliver what the donor wanted, ultimately the impact in the community would come. In time, however, this approach left connections with the nonprofit community lacking, and during Lori's leadership she has focused on developing the appropriate balance, with her guiding star being the Foundation's value proposition: if you want to invest in this community and that's your goal, we are your partner that can help you maximize your impact in this community. And you are investing with us because you want to learn with us. "We stopped trying to compete with the commercial charitable funds and other types of donor-advised fund vehicles to focus on the unique value proposition of connecting to this region that we bring to the table," she said.
In terms of what the Foundation has always gotten right, in Lori's mind, it's the people. "The staff, our Board, donors, our nonprofit partners – we just have an incredible group of people," she says. "All the people that believed in the Foundation, that invested in the Foundation so that we are able to do work in the community. Many we never even met – George Hitchings, Shannon St. John, Hildegard Ryals, John "Shag" Stewart - people that bought into this idea that we're going to invest in this community and leave our legacy to make an impact. And other leaders like Frank Daniels, Jr. who entrusted the family's philanthropy to us. He knew that investing in us would exponentially change the impact the Foundation would be able to have in our region."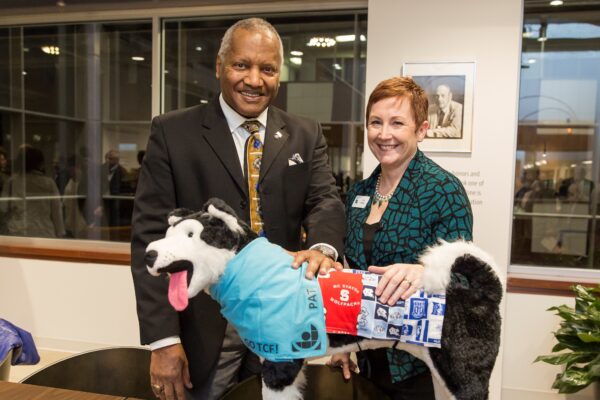 Lori with former Foundation Leadership Council Chair, Phail Wynn, Jr. and "Pat" the office mascot.
Lori is especially proud of the work of the Triangle Capacity-Building Network, a collection of local funders working together to help bring sustainability to nonprofits who need it the most. Collaborative giving sounds easy and logical, but it's hard and can be messy because everyone has their own interests and mission. "The fact that this group of institutional and corporate funders has managed to carve out that space where they can trust one another and acknowledge that this is the right thing to do with this investment is really special," she says.
There is still much work to be done, and the needs in the community are great. The last three years have shone a bright light on the inequities that exist for many members of our community, and Lori recognizes that others look to the Foundation to provide guidance on where to focus their resources. When the pandemic hit, donors responded immediately when the Foundation quickly mobilized the flexible Fund for the Triangle. "Donors wanted to give and give generously, but didn't know where to focus their attention. We were grateful so many trusted us to know where the needs were greatest, and through the Fund were able to deliver much needed support," she says. "The work continues, however, and there is always more need than we are able to provide for." With so many businesses and corporate leaders coming to the region, Lori would like to see more people connecting with their new community. "In a world where community no longer just means place, how easy is it to move here from Boston or Long Island and live in an exurban subdivision and drive to RTP and never see what the whole Triangle truly looks like? Our vision is for a community where everyone thrives, which requires a community that invests in itself, and is a call to action that all the newcomers and especially new wealth need to pay       attention to."
In reflecting on the Foundation's 40th anniversary, Lori appreciates what has come before, and for what the future may hold, reflecting on this Margaret Mead quote: "Never doubt that a small group of thoughtful, committed citizens can change the world. Indeed, it is the only thing that ever has."
We were not surprised at all when Lori was able to find a musical theatre reference that reflects the sentiment of Margaret Mead's quote -  "Putting it Together" from Sunday in the Park with George: "Bit by bit, putting it together, Piece by piece…..every little detail plays a part, Having just a vision's no solution, Everything depends on execution, Putting it together, that's what counts!"
Right: Lori starring in her high school musical "Guys and Dolls."
Since the creation of the Fund for the Triangle in 2013, the Foundation has invested $11.1 million into the Triangle, supporting hundreds of nonprofits across Chatham, Durham, Orange, and Wake Counties. Fund for the Triangle supports a strong nonprofit ecosystem that invests in the people and places that make the Triangle special and we can only do that with partnership from generous community members. Consider making a gift or grant to Fund for the Triangle. Together, we can envision and create a community where everyone can thrive.