Current Art Exhibit On Display: A Walk with Myself by Ji Ahn Kang
Artist Statement:
The moments you deserve.
Giving permission to slow down and taking a moment to walk with myself is the best gift I learned.
With this collection, I wanted to share the beauty that I found.
The beauty I found was the stillness of nature.
Not only did I see and feel the beauty of nature, but I also learned how to connect with the current.
"It's okay to take it slow. "
I hope this collection inspires you to take a moment and gives you the delights you deserve.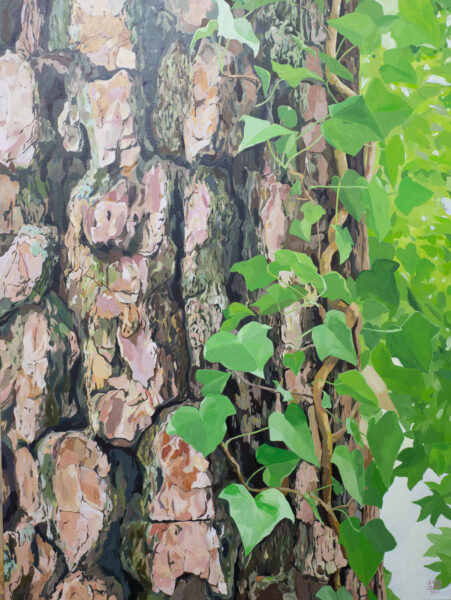 Meet the Artist
Ji Ahn Kang is Korean, currently living and working in NC.
She moved to NYC in 2014 and worked as a jewelry designer for many years, and later on, she worked as a cake designer in Brooklyn.
Her cakes were featured in Vogue and many publications.
During her career, she was intimately working closely with colors and textures. All her knowledge, craftsmanship, and artistry merged into paintings, and now she mainly focuses on making paintings.
She is always curious and fascinated with colors and textures.
After moving to NC, Jiahn deeply fell in love with nature's beauty and became obsessed with mother nature's elements and details.
She works on both small and large scales of artwork with acrylics.
She paints in 2D, and recently, her interest merged in using heavy mediums to add textures and sculptural forms to her paintings, which incorporated the techniques from her former cake designs to make sculptural paintings.
Interested in making a purchase?
If you are interested in purchasing a piece from the artist, please view the full price list.
 Past Artists
The Foundation has had the pleasure of having the works of these fine local artists on display in our gallery in past exhibits. We encourage you to visit their websites, go see their art in person, and learn more about their artwork and journeys. Let them know we sent you!
Why does the Foundation have an art gallery?
Because we believe that a strong commitment to the arts is an important part of our vision for the community.
As part of our focus on cultural arts, the Foundation's office space also serves as a rotating art gallery, for two main reasons: to support and foster local artists, and to encourage our community to connect and engage in meaningful conversation inspired by art. The Triangle Community Artists Gallery, housed within our office space at the Frontier in partnership with the Durham Art Guild (DAG), hosts artwork from local artists for periods of six months at a time. All artists in the gallery are chosen by a jury panel of fundholders and donors with an interest in the arts. The art on display, unless marked, is available for purchase. We are proud of this partnership with DAG, our jury of community leaders and arts-minded fundholders, and the artists we have the great pleasure of showcasing each cycle.
During this time, we encourage you to visit our virtual gallery where you can peruse a few pieces of the current exhibit at your leisure, and purchase art if you desire. Wish to view the exhibit in-person? Contact Zach Ward, Scholarships and Program Officer, at zach@trianglecf.org.
Interested in learning how to turn your office into a curated art gallery?
Learn more about the DAG Art@Work program, and see how they can help you get started today!
Interested in getting your art displayed in our gallery?
Calls for art are for this exhibit are usually published in June. So keep an eye on Durham Art Guild and Triangle Community Foundation's websites around that time!