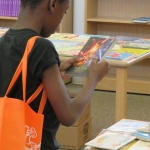 During the 2018-19 school year, WAKE Up and Read's book drive program distributed more than 138,000 books at 13 schools, 17 childcare centers, and various community events during the spring and summer. That's 6,800 students in the program's schools, and 1,300 children in its childcare centers impacted across Wake County's growing "literacy rich culture."
WAKE Up and Read (WUAR) is the community coalition of the Wake County Campaign for Grade-Level Reading. Its work is focused around three factors, or "pillars"—school readiness, summer learning loss, and attendance—which impact outcomes of 3rd grade-level reading proficiency and learning.
The Wake County Public School System is the backbone organization of WUAR and strives to identify leaders in the community who can mobilize around the three target pillars. The Campaign's 13-member leadership team uses data to determine strategies for aligning efforts and programs that will ensure, "every child in Wake County is inspired, equipped, and empowered to read."
Being aware that their membership wasn't necessarily representative of the community the Campaign was serving, the Leadership Team participated in Racial Equity Institute training (based out of Greensboro, NC), aiming to inform its work proactively using a racial equity lens. The team has recruited more leadership from African American and Latinx communities, building on its goal to be more inclusive and diverse as it seeks to connect more deeply to the community.
The book distribution program is one of several WUAR directs to achieve its goals.
"Book distribution begins with a drive in January that lasts six weeks," shared Lori Krzeszewski, WAKE Up and Read Administrator. "Each school distribution happens over the course of two to four days and includes a family literacy night." Students select 10 books of their choice, and the project lasts several months.
Along with the book distributions, Wake Up and Read's "Ready4K" serves as an additional avenue for parents to further engage in their child's learning. As part of an evidence-based and customized curriculum for children aged birth to 4th grade, parents receive three text messages per week based on their child's age or zip code, with resources, news of activities and events (like literacy festivals), and other pertinent updates available in English, Spanish, and Arabic. 436,995 messages have been sent since September 2018 with 95% of parents sharing that they participate in Ready4K activities with their children at least once a week.
Later this fall, WAKE Up and Read will move to its own centrally located property, allowing it to become a "literacy hub" with a systematic approach county-wide. The new location grants WUAR more visibility, will be on a bus line for greater accessibility, and overall, continues to build better connection to the community.
Says Krzeszewski, "We look forward to the impact this will make in our ability to collect and distribute books and engage families and the community in creating a literacy rich culture."
WUAR probably won't see additional schools included in its programs this year, but data will continue to be evaluated so that schools in need of resources will get them. WAKE Up and Read's commitment to investment in the county's children is a win not only for the children, but for the community as a whole.
 The Wake County Campaign for Grade-Level Reading is a nonprofit partner of Triangle Community Foundation through our focus area in Youth Literacy, supported by our Fund for the Triangle. Parents/caregivers can enroll in WUAR's programming by texting WC to 70138. Photos are courtesy of Wake Up and Read.