This year, April 22nd marks the 50th anniversary of Earth Day. It will also be my family's 38th day at home due to COVID-19. Although this year's celebration of Earth Day won't look anything like how I'd (or probably anyone else) imagined, there are some environmental silver linings to our socially distanced lives.
As a member of EarthShare NC's advisory committee, I had been working to plan activities to celebrate the 50th anniversary of Earth Day for months. My fellow committee members and I were excited to engage with businesses across the Triangle in supporting local environmental nonprofits through volunteer projects. Obviously, these events are not happening this year.
While I mourn the loss of these experiences and others, I am also grateful that this time at home has encouraged me and my family to spend more time (safely) outside. With an energetic two-year-old, getting outside during the day has kept us all sane during these weeks of isolation. My husband and I are very privileged to have jobs that allow us to work from home and colleagues who understand that day-to-day work life will look a little different for employees during this unusual time, particularly those of us with small children.
Every day, being sure to safely distance of course, we ride our bikes or go for walks, taking advantage of the Capital Greenway System in Raleigh, where we live. We've made it a weekend routine to bike to Dorothea Dix Park to have a picnic, run around, and collect sticks, acorns, and rocks. And we've discovered new branches of the Greenway System and seen such a wide range of people using these amenities for a variety of purposes; from other families on bikes, to people pushing home grocery carts from a trip to the store or a food pantry. In a very difficult time, these spaces have been so important to us and others.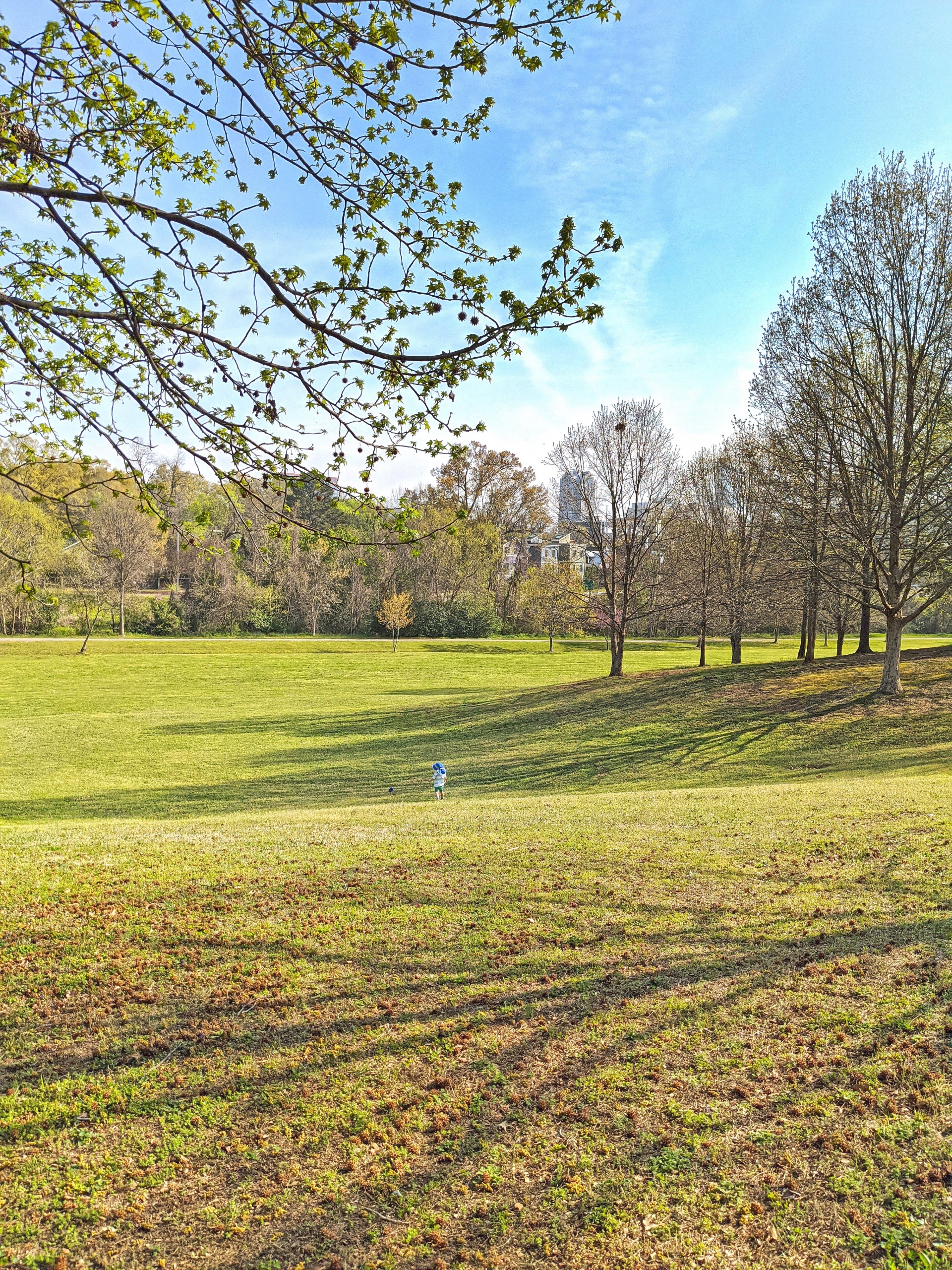 These parks, greens places, and trails are a testament to the amazing work of our region's environmental nonprofits, local governments, and other partners over the last decades. They, like the activists who organized the very first Earth Day fifty years ago saw value in conserving our natural resources and creating spaces for people to be outside.
On April 22, 1970, more than 20 million people across the country gathered for the first ever Earth Day. It was a movement started by a group of people, mostly younger, a lot of students, who were worried about things like pollution, and our impact on the Earth. They shared a concern that if we didn't do something, the Earth's natural resources would become depleted, and there would be dire consequences for people all over the globe.
Fifty years later, we know that their concerns were warranted. There is a growing consensus that climate change poses a threat to the environment, the people, and the assets in communities across the globe. Locally, the Triangle is experiencing an increasing number of climate-related threats like increasing temperatures and more severe flooding, which are expected to get worse in the future as our region grows.
Each year Earth Day serves as a reminder that we need to take these threats seriously and commit to changes at the individual, societal, and global levels. This year on Earth Day that message is particularly poignant, as COVID-19 has enabled us to see first-hand what happens when we reduce the burden we create on the Earth and its natural resources.
Day by day, wildlife reclaims space in our National Parks. And as cities across the globe have begun instituting COVID-19 stay-at-home measures, they have experienced significant decreases in air pollution. Last month New York's pollution levels were 30% lower than the average for the previous five years. And just two weeks after stay-at-home restrictions were announced in the United Kingdom, pollution levels in some UK cities were more than 60% lower than the same period in 2019. Because of the pandemic we're getting a glimpse of what a cleaner, more environmentally conscious future could deliver.
But it's not sustainable and comes at a huge economic and public health cost. At a time when hundreds of thousands of our fellow Triangle neighbors are without work and may be struggling to access food or pay bills coming due, or may even be ill because of the virus, even I find it difficult to feel a sense of singular urgency around environmental conservation.
We at Triangle Community Foundation are creating space for both priorities. As we make grants to support very important rapid response efforts to help Triangle families impacted by COVID-19, we are also continuing to make grants to nonprofits that are helping conserve and sustain our natural resources for future generations. Those nonprofits, too, are doing important work, and I for one am incredibly grateful for them during this time.