To our friends and partners:
The health and safety of our employees, office visitors, and event participants is of great concern to the Foundation. We are closely monitoring the local impact of the Coronavirus /COVD-19 outbreak, following the guidance of the Center for Disease Control, and are taking proactive steps to implement additional health safety measures in our office, and at our events to best prevent the spread of respiratory illnesses.
For the safety of everyone, we will no longer be taking future reservations for our meeting spaces for the foreseeable future. Our top priority is the health and well-being of our staff and community partners. We hope to be part of the effort in preventing any new cases, to the best of our ability, and we are paying close attention to guidance from public health officials.
The Foundation is proud to offer free meeting space to nonprofit organizations in the Triangle at our office in RTP. We invite you to use our conference rooms to host meetings, trainings, or information sessions.
How to Make Reservations
Our conference rooms are available at no charge to nonprofits or community organizations. However, we do ask that you make a reservation and complete a contract. Your organization's reservation is not confirmed until a Reservation Agreement is signed between you and the Foundation.
Reservations are accepted on a first-come, first-served basis; drop in use of the conference rooms is not allowed. Reservations must be made at least 5 days in advance and the Foundation will not accept them farther out than 6 weeks. The Foundation reserves the right to refuse availability. Conference rooms are available for use during our business hours on Monday, Wednesday, and Thursday from 9:00 am – 4:00 pm.
Perry Colwell Board Room
(Capacity: 25-30)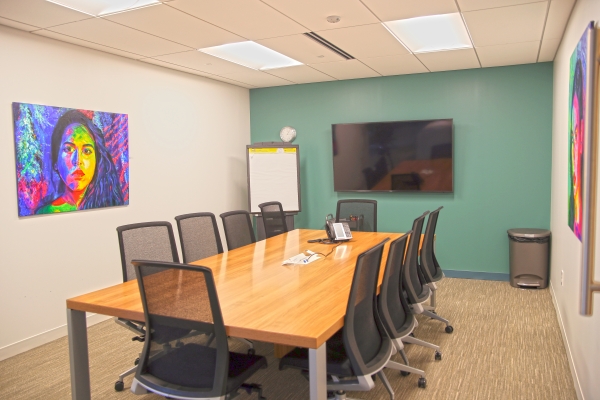 Woodson Family Conference Room
(Capacity: 12)
Technology
In order to be prepared to use the technology available with conference rooms at the Foundation, the information below should be reviewed and meeting organizers should familiarize themselves with these tech solutions prior to the meeting date.
All of our rooms are equipped with Clickshare software, a TV projection system, conference phones, and Wi-Fi internet access. You must provide your own laptop to use this technology.
Frequently Asked Questions