A dedication and strong desire to succeed academically has been ingrained in Aiyana for as long as she can remember. She spent most of her life living in Elon, North Carolina due to her dad's job, though most of her extended family lives in Hollister, North Carolina, the primary location of her family's tribe, Haliwa-Saponi. Though Aiyana is passionate about her tribal identity, there wasn't a prominent native youth community in Elon to lean on. When it came time to attend college she wanted to connect with students with a similar background, leading her to University of North Carolina at Pembroke (UNCP), North Carolina's Historically American Indian University.
Alongside completing her college applications, Aiyana also was applying for scholarships, as the full-cost of college was prohibitively expensive for her family. She was excited to find out about the North Carolina American Indian Fund Scholarship at Triangle Community Foundation, and promptly applied. Established in 2001, this scholarship is administered by the Foundation and serves the purpose of filling gaps in funding for education needs in American Indian communities. Aiyana was awarded this scholarship for her entire four years at UNCP, assisting in covering expenses such as tuition, textbooks, and school supplies. Additionally, she received support from the Student Assistance Fund, a resource activated during COVID-19 by the Foundation that provided one-time cash assistance to eligible students with needs that would otherwise hinder them from completing their academic program. This support helped tremendously, especially after her dad was laid off during the pandemic.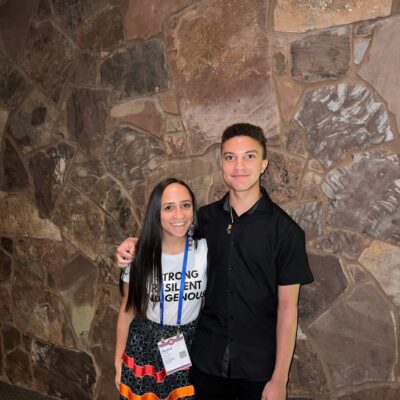 Due to the lessened financial burden and stress, Aiyana was able to increase her engagement on campus. While working towards her bachelor's degree in exercise sports science with a concentration in health promotion, alongside minoring in American Indian studies, she plugged in to several organizations that aligned with her passions such as the American Indian Science and Engineering Society (AISES), which sponsored a travel scholarship for her and her brother to travel to California for an educational conference in 2022. "I attended a high school without a Native American population, so I'm so thankful to have had this opportunity to connect with students in STEM fields who shared a similar heritage."
Additionally, she led the creation of an organization for students focused in kinesiology or science-based degree paths called "HAWKS" - Health Advocates for Wellness with Kinesiology Students. While others doubted there would be sufficient interest to support such a group, Aiyana doggedly spent the entire summer of 2022 working through the logistics, from creating bylaws to social media pages to writing its constitution. By the time she graduated, the organization had 35 engaged members to its name, with various certification opportunities such as CPR training and safe zone training for inclusivity in healthcare.
Throughout college Aiyana worked two to three part-time jobs in addition to being on the cheer team and leading the squad as captain during her senior year. Trying out for the team was not originally planned, but she decided to go for it to get involved. Little did she know this decision would lead her to such leadership growth opportunities, first as captain and then through an offer to be assistant coach for the team in the fall of 2023.
It's safe to say Aiyana took full advantage of her time at UNCP, and she is grateful for the scholarships that allowed her the freedom to do so. "Without going to college, I wouldn't have been able to learn how to effectively promote a business or a healthy lifestyle," she says, a key lesson that has contributed to her success as Marketing Director at a mental health agency near Pembroke. The agency is working on partnering with UNCP to connect with students in healthcare fields who need internships or those who just need a place to start in their careers. A long-term goal of Aiyana's is to inspire young people, especially Haliwa-Saponi youth, to pursue a college education. Having experienced firsthand the obstacles in the way, she is a strong advocate for an easier route to finding scholarships and more designated scholarship staff on college campuses. "The process can sometimes feel like finding a needle in a haystack, especially if you have no guidance about where to begin."
Aiyana offers two pieces of advice to students entering the journey of college admission and applying for scholarships:
Stay organized and be proud of yourself. She describes how keeping a list of scholarships she had already applied for with their application deadlines and funding amounts helped keep track of her progress. "It was nice to see the progress I had made and realize my hard work was paying off," she says.
Don't be afraid to step outside of your comfort zone. Trying out for the school's cheer team was not originally planned before entering college, but it became a huge part of her college experience and a way to build leadership skills. "You might end up changing your entire life just by trying something new," Aiyana says.