Tickets are on sale for What Matters: Women – click here to register!
Raleigh Convention Center | Tuesday, April 24, 2018
On average, 15% of people in the Triangle are living at or below the federal poverty line. That number is higher for women, and the gaps are even wider for women of color and single parents. Women continue to be disproportionately affected as it relates to health, housing, employment, and education, but when they are empowered and have access to the resources they need, women thrive against all odds. And that impacts the entire community – our kids, our economy, and our well-being. What can we do to create a region of opportunity for all women? We need everyone at the table – let's work together to imagine the possibilities, so that we can ensure everyone thrives. Join us!
Why Women?
For the last few years, the Foundation has focused the What Matters community luncheon under the umbrella of "A Region of Opportunity." We work to ensure that everyone can thrive, and in 2017 What Matters looked deeper at Our Kids – who they are, what challenges and successes are they having in our community, and what can we do to ensure that they have access to opportunity. This year's theme of Women will explore gender inequality specifically as it relates to health, housing, education, and employment. It will also raise up the overwhelming success of women philanthropists – when women give, they give more, do more, and have a greater impact for change. We need everyone at the table – this is not just a women's issue – ensuring that women are empowered in our community benefits all of us, and gets us one step closer to an equitable future for the region.
This year's event is presented by Wells Fargo. The opening session registration opens at 9:30 am, while lunch registration opens at 11: 00 am, with lunch starting promptly at noon.
2018 Keynote Speaker

Dr. Johnnetta B. Cole received a Ph.D. in anthropology with a specialization in African Studies from Northwestern University. After holding teaching and administrative positions in anthropology, women's studies and African American studies at several colleges and universities, she served as the president of both of the historically Black colleges for women in the United States – Spelman College and Bennett College – a distinction she alone holds. She has authored or edited several books and numerous articles for scholarly and general audiences.
Opening Sessions
The day will begin with three dynamic morning workshops relating to this year's theme of Women. These  optional opening sessions are included in the registration fee, will be led by community experts and Foundation partners, and will provide an opportunity for additional dialogue and education.
Session 1: Finding Your Compass: Tune out the Noise and Make a Difference
Designed by Jes Averhart, Leadership Triangle & Jessica Aylor, Triangle Community Foundation and sponsored by Duke Energy
Want to change the world or just focus on what matters most to you? This workshop will help you identify your own personal values and explore ways to activate them. Join us to hear from a diverse group of community leaders who are inspired to make a difference in the Triangle.
Session 2: Women in the Triangle: Achieving Empowerment
Designed by Farad Ali, The Institute of Minority Economic Development & Gina Andersen, Triangle Community Foundation and  sponsored by Blue Cross Blue Shield of North Carolina
Leaders in the public, private, and nonprofit sectors will lead round-table conversations, sharing their journey to leadership and challenges faced along the way. Together, we will brainstorm strategies so that everyone can better empower women and girls in our community. This interactive session will begin with a brief introduction, then participants can expect to take part in three self-selected conversations.
Session 3: Community…Activate! Working Together to Engage your Collective Power
Designed by Michelle Serrano-Mills, Next Generation of African American Philanthropists (NGAAP) & Treat Harvey, Triangle Community Foundation
Passionate about using your power and resources to address critical issues in our community? Do you know how to plug in? Do you know who is doing the work? This session will explore how to find and connect with your network and other networks, and how collective giving and action can make the greatest impact once you do.
Philanthropic Awards
Each year during What Matters the Foundation presents two philanthropic awards sponsored by American Underground, focused on the game-changing work of deserving community members. The Legacy Award recognizes individuals who have supported our community by providing vital service to the Foundation, while the Catalyst Award recognizes engaged, visionary donors whose dedication has made – or is making – a significant impact in our community. Nominations are made by our staff, and a Foundation committee selects the winners each year.
Perry Colwell, Legacy Award winner – Perry's impact on the Foundation is woven into the DNA of the organization. He has been a sounding board, a candid and tireless advocate, and a student of organizational efficacy. His emphasis on process, best governance practices, equity, and keeping the organization focused on the community, not only led the organization during a strong period of growth and change, but also resulted in policies, practices and organizational structure that will remain for many years to come. Programmatically, Perry's always been an advocate for the Foundation's work and earned the title of a "Site Visit Superstar" among the staff for his commitment and dedication to visit and learn from nonprofits. In that vein, Perry has a vision for our Triangle community and works tirelessly to realize his vision – through his work promoting sustainability of the Foundation, advocacy for the area's nonprofit partners and financially through grants to the community. Perry's dedication to women's rights and health has been paramount in our community, and made a difference for so many who reside here.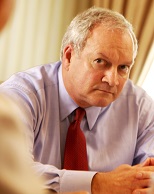 Chuck ReCorr, Catalyst Award winner – Chuck walks softly, but carries a big stick.  As a career Merrill Lynch Advisor and Managing Director, he counsels the Group's clients with custom strategies that lead to success.  He has developed a custom approach to his philanthropy as well, through which he challenges nonprofit organizations of all sizes, including the Foundation, to commit to governance excellence as a means to achieve long-lasting impact and sustainable missions.  Through a fund at the Foundation, Chuck enrolls cohorts of nonprofit executive directors and board chairs to the Harvard Business School nonprofit management course with a goal to align the paid and volunteer leadership of an organization around 'doing' governance right.  So far, there are over 75 alumni of the program serving in over 50 nonprofits here in the Triangle. His work lifting up the importance of building strong leaders – women and men alike – has been transformative of the nonprofit sector in our region.
Host Committee
Thank you to our host committee members for their passionate dedication of our work:
Farad Ali | Carol and Bob Bilbro | Dianne and Bruce Birch | Perry Colwell | Julia and Frank Daniels | Debbie and Sheldon Fox | Ella and Stuart Frantz | Annette and Rick Guirlinger | Fred Hutchison | Mark Kuhn | Easter Maynard | Prue and Peter Meehan | Pat Nathan and Mervyn Groves | Cathy Pascal and Ron Strom | Carol Tresolini | Dr. Phail Wynn, Jr. *updated 2/28/18
Sponsors
Thank you to our sponsors: